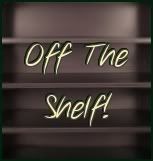 I'm going to participate in the Off the Shelf Challenge this year. I think it will be really good, considering I really want to read all the many books on my shelf.
This challenge is to read those books you own copies of, but have never got around to reading. If you don't have many that you own, but have a massive TBR shelf you're welcome to read those ones as long as you don't add new ones. You don't need to actually get rid of your books after you've read them, this is just to read them.
to sign up for the challenge, go
here
.
Challenge Levels:
1.Tempted– Choose 5 books to read
2.Trying – Choose 15 books to read
3.Making A Dint – Choose 30 books to read
4.On A Roll – Choose 50 books to read
5.Flying Off – Choose 75 books to read
For extra hard challenges:
1.Hoarder – Choose 76-125 books to read
2.Buried – Choose 126-200 books to read
Here's my list:
Numbers by Rachel Ward
Arson by Estavan Vega
Happy Ever After by Nora Roberts
Matters of the Heart
One Last Wish
Jonas (Beautiful Dead)
Ash by Melina Lo
The Ivy
XVI by Julia Karr
Abused Werewolf Rescue Group
Impulse by Ellen Hopkins
Girl, Stolen
Hex Hall
Hearts at Stake by Alexandra Harvey
Jessica's guide to Dating on the Dark Side
Daughters of the Moon
The Fallen
Give Up the Ghost by Meagan Crewe
Audrey, Wait! by Robin Benway
The Replacement
Looking for Alaska
How I Found the Perfect Dress
The Red Necklace
Little Black Lies by Tish Cohen
Lipstick Apology
So I've got 25 books to read. I'll be crossing them off as I read them.