So, I'm a little late with putting this up, but never late than never, right?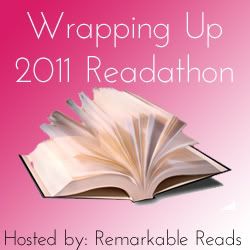 Anyway, Jessie at
Remarkable Reads
is hosting a Wrapping Up Read-a-thon, starting today and running until January 1. For more info go
here
.
Even though I am just now putting this up, I still have been reading. I've already finished Catching Jordan and am off to start another.

A few books that I hope to get done:
1. Don't Breathe a Word by Holly Cupala
2. Shatter Me by Tahereh Mafi
3. The Future of Us by Jay Ahser and Carolyn Mackler
4. Lover Revealed by J.R. Ward
5. Clockwork Prince by Cassandra Clare

Probably a few others but that's a good starting point.
I probably won't be doing much reading on Christmas Eve, Christmas, or New Year's Eve, but all of the other days I'll try to read as much as I can.
I also probably won't be posting much in the mean time; between this and the holiday I'll be pretty busy. But I will when I can. I'll try to put up some wrap up posts for the read-a-thon for most days.
I'd also like to point out to everyone that I have blog survey and would love it if you could take the time to fill it out
here
. Thanks!
Happy Reading everyone!