Let me just start by saying we have Kristi at
The Story Siren
to thank for hosting IMM every week.
And, also, before I begin I'd like to apologize for my blog being pretty much dead for the past couple of weeks. I've been busy for a while but not any more. It should start kicking up again here.
Now, down to the good stuff!
Library:
Nevermore by Kelly Creagh-Cheerleader Isobel Lanley is horrified when she is paired with Varen Nethers for an English project, which is due—so unfair—on the day of the rival game. Cold and aloof, sardonic and sharp-tongued, Varen makes it clear he'd rather not have anything to do with her either. But when Isobel discovers strange writing in his journal, she can't help but give this enigmatic boy with the piercing eyes another look.
Soon, Isobel finds herself making excuses to be with Varen. Steadily pulled away from her friends and her possessive boyfriend, Isobel ventures deeper and deeper into the dream world Varen has created through the pages of his notebook, a realm where the terrifying stories of Edgar Allan Poe come to life.
As her world begins to unravel around her, Isobel discovers that dreams, like words, hold more power than she ever imagined, and that the most frightening realities are those of the mind. Now she must find a way to reach Varen before he is consumed by the shadows of his own nightmares.
His life depends on it.
The Twin's Daughter by Lauren Baratz-Logsted- Lucy Sexton is stunned when a disheveled woman appears at the door one day... a woman who bears an uncanny resemblance to Lucy's own beautiful mother. It turns out the two women are identical twins, separated at birth, and raised in dramatically different circumstances. Lucy's mother quickly resolves to give her less fortunate sister the kind of life she has never known. And the transformation in Aunt Helen is indeed remarkable. But when Helen begins to imitate her sister in every way, even Lucy isn't sure at times which twin is which. Can Helen really be trusted, or does her sweet face mask a chilling agenda?
Filled with shocking twists and turns, The Twin's Daughter is an engrossing gothic novel of betrayal, jealousy, and treacherous secrets that will keep you guessing to the very end.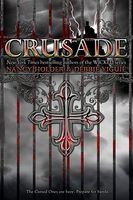 Crusade
by Nancy Holder and Debbie Viguie- The ultimate battle. The ultimate love.
For the past two years, Jenn has lived and trained at Spain's Sacred Heart Academy Against the Cursed Ones. She is among the few who have pledged to defend humanity or die trying. But the vampires are gaining power, and the battle has only just begun.
Forced to return home after death takes a member of her family, Jenn discovers that San Francisco is now a vampire strong-hold. As a lone hunter apart from her team, Jenn is isolated—and at risk. She craves the company of her fighting partner, Antonio: his protection, his reassurance, his touch. But a relationship with Antonio comes with its own dangers, and the more they share of themselves, the more Jenn stands to lose.
Then Jenn is betrayed by one who was once bound to protect her, causing her to doubt all she had held as true. To survive, Jenn must find the courage to trust herself—and her heart.
Low Red Moon
by Ivy Devlin- Avery Hood is reeling from the loss of her parents--and the fact that she can't remember what happened to them even though she was there.
She's struggling to adjust to life without them, and to living with her grandmother, when she meets Ben, who isn't like any guy she's ever met before.
It turns out there's a reason why, and Ben's secret may hold the key to Avery finding out what happened to her parents...
But what if that secret changes everything she knows about--and feels for--Ben?
Fearscape
by Simon Holt-
The Vours: evil, demonic beings that inhabit human bodies on Sorry Night, the darkest hours of the Winter Solstice. It's been a year since Reggie first discovered the Vours, and the Winter Solstice is approaching once again. It will be another night of unspeakable horror for those unlucky enough to be taken by the Vours, because this time, she won't be able to stop them. The Vours have imprisoned Reggie in a psychiatric hospital, where she is subjected to a daily routine of unfathomably sadistic experiments. Her life is a living Hell, but she won't give up. They attacked her brother. They killed her friend. And Reggie will never stop fighting back.
I'm pretty excited about all my loot this week. There's a lot of books that I got that I've been wanting for a while now. Gotta love the library!
What did you get this week?