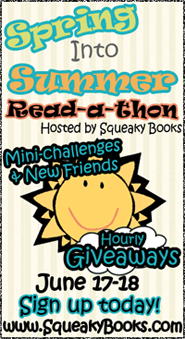 Again, this is not my fifth update, but the fifth mini-challenge for the SiS read-a-thon
Update:
•Total Books Read: 2
•Total Pages Read: 592
•Books Read Since Last Update: 1
•Pages Read since last update: 112
•What I'm currently reading: The Ivy
•Books I've read: The Summer I Turned Pretty, The Mediator: Darkest Hour
Mini-Challenge:
It's time for today's fifth update and last update & mini-challenge! For this mini-challenge I want you to create a sentence using at least three book titles. For more info on this mini-challenge, visit
here.
Through her eyes
something deadly this way comes
so
ulless.
I'm not sure how much sense that makes, but there you have it.
Also, I've decided that I'll be doing a post for each instead of one post for the whole thing. It'll be easier this way. Sorry for clogging up everyone's google reader.